2018 Annual "Celebration of Hope" Gala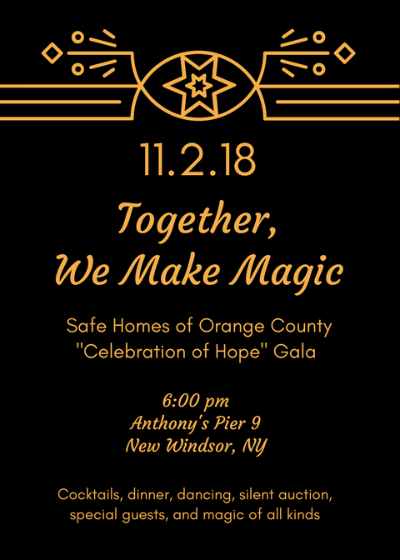 Together, we make magic!
This year, we are proud to honor five dedicated partners who work alongside us - making magic happen - every single day:
The Hope Award
~*~ Joan Cusack-McGuirk, President & CEO of St. Luke's Cornwall Hospital
Family Justice Center Award
~*~ Child Welfare of the Orange County Department of Social Services
~*~ City of Newburgh Police Department
The Mildred Warren Good-Neighbor Award
~*~ Monroe-Woodbury Rotary Club
The Jane Chertock Legacy Award
~*~ Amy Stillwaggon of Newburgh Envelope Corp.
Sponsored by: Ulster Savings Bank, Hudson Valley Federal Credit Union, Orange and Rockland Utilities, Inc.