6th Annual "Love Shouldn't Hurt" Teen Summit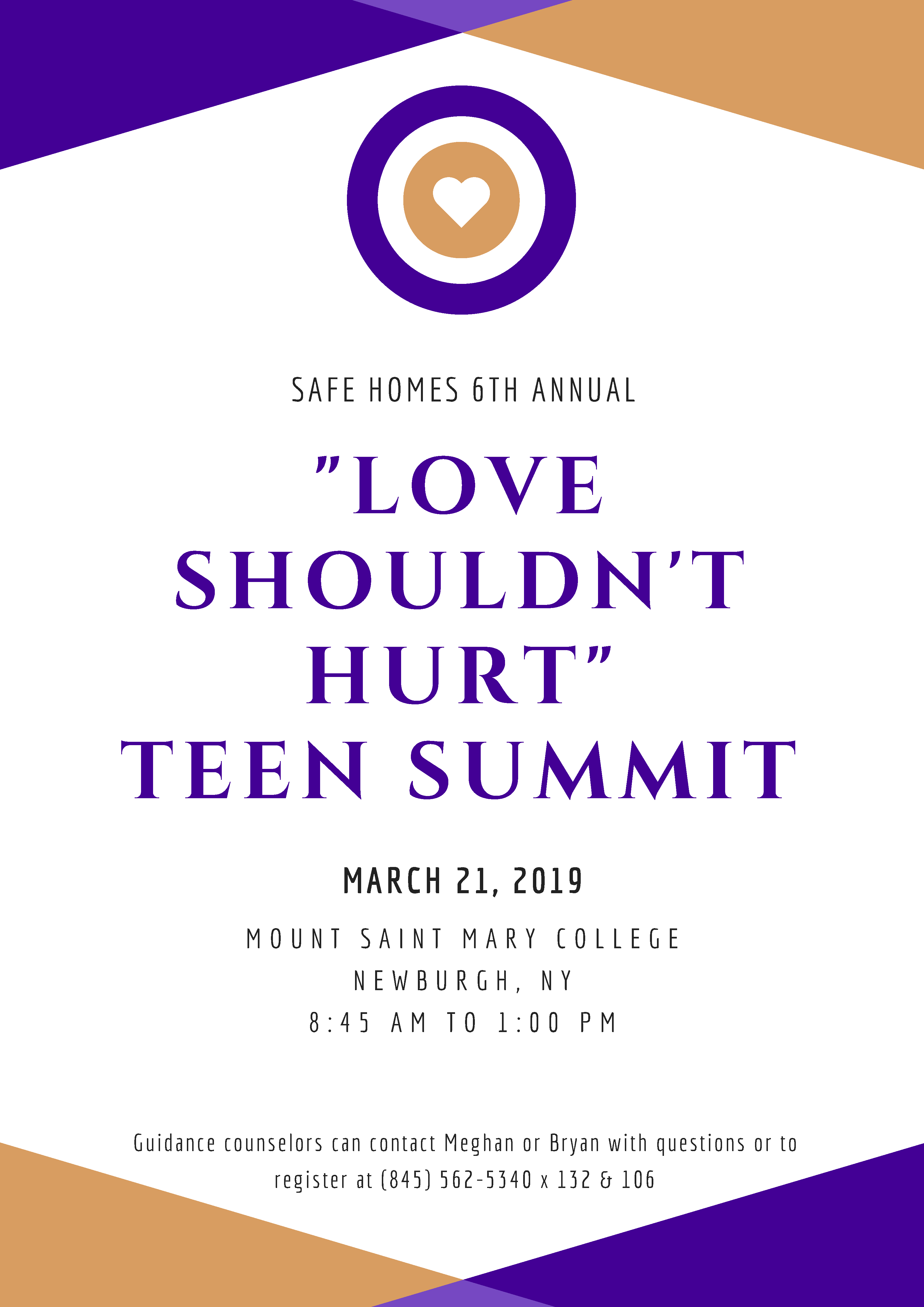 Safe Homes of Orange County is pleased to invite area 9th-12th grade students to our 6th Annual "Love Shouldn't Hurt" Teen Summit on March 21, 2019 at Mount Saint Mary College in Newburgh, NY.
Love Shouldn't Hurt is a transformative day for teen and adult ally participants to gain knowledge and skills necessary to end teen dating violence. Despite community efforts, teen dating violence remains a serious issue for our teens:
- 1 in 3 adolescents in the U.S. is a victim of physical, sexual, emotional or verbal abuse from a dating partner,
- Girls and young women between the ages of 16 and 24 experience the highest rate of intimate partner
violence– almost triple the national average,
- 80% of guidance counselors say they feel unprepared to address incidents of abuse on their school campus.
During Love Shouldn't Hurt, students will have the opportunity to participate in different workshops to explore the dynamics of dating violence in depth and discuss ways they can bring what they learned back to their school and community. Adults will also attend workshops related to recognizing and responding to dating abuse and supporting survivors.
Deadline for registration forms is Friday, February 22. Registration is on a first-come, first-serve basis. Each school district will have the opportunity to bring 15-20 students, and 1-2 adult chaperones, with potential for more depending on space availability. Please give priority to students who have not attended previously. Lunch will be provided free of charge. Students must arrive between 8:15 and 8:45 AM and will be dismissed at 1:15.
We are excited to partner with local school districts to provide the opportunity to empower Orange County teens and adult allies to work together to end dating violence!
Questions? Please contact our Youth Educators at 845-562-5365 extension 132 (Meghan) or extension 106 (Bryan).